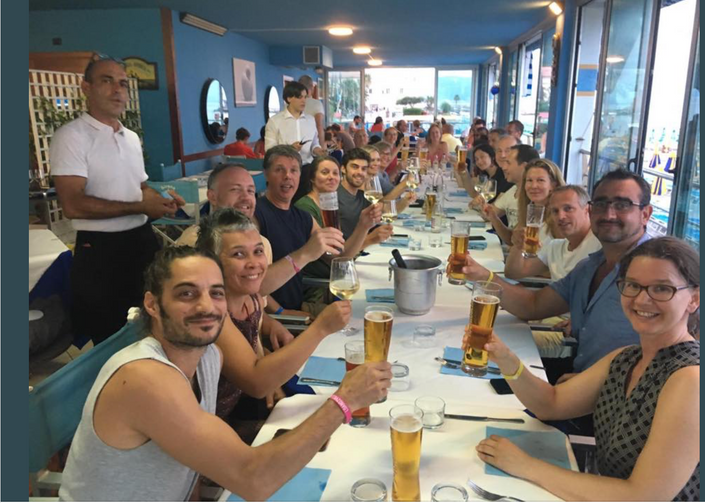 ITALY 18 CEU Clinical Skills Holiday Training Summit 2024!
Annual Three Day In Person Holiday Training Course
Enroll in Course
The annual, family friendly holiday training trip in Italy!
2024 dates: July 24-26, Finale Ligure, Italy (Teacher Training July 22-23)
Whether you have been with us for years and are looking to get corrections and feedback; have taken training courses with us and want to solidify the skills you have already learned; or have been learning online and now ready to begin training in person, summits are the place to be. Morning sessions focus on acupuncture training to safely yet effectively needle challenging parts of the body; afternoon sessions involve a deep dive into treating specific conditions, covering theory, strategy, acupuncture and herbal protocols, and, of course, partnered practice.
Why are Summits the most important course to take? At Summits, you will meet senior practitioners who have successfully integrated Tangible Acupuncture into their practices and network with colleagues as eager as you to return this medicine to a clinically focused, results based practice like it used to be.
Come train, practice, learn and holiday with the growing community of practitioners seeking a more tangible level of practice for their patients. Come have a holiday. Come build a personal relationship with the teachers.
To learn more about location, lodging suggestions, and the course itself, see the curriculum information
WHO CAN ATTEND? Please read carefully before purchasing course! This course is only open to LICENSED practitioners in ACTIVE practice using acupuncture to treat patients every week. This particular course is not open to students or hobby practitioners—please attend our many other courses designed for students and new practitioners not yet in full practice. This restriction is to ensure all participants are confident and experienced at needling so that partner work is not about learning technique but about adopting strategies and protocols.
In addition to being licensed practitioners of Chinese medicine in active practice, participants are expected to have attended in person or taken the online version of one or more of the following courses:
• Manipulating with Acupuncture (Nine Essential Needling Techniques)
• Chinese Bodywork for Clinical Practice
• Tangible Acupuncture for Orthopedic Injuries
• Tangible Acupuncture for Internal Medicine
It is also strongly urged they have an active Daoyin practice, such as: 100 Days of Pulling Qi
Your Instructor
Andrew and JulieAnn Nugent-Head are vocal advocates of classically based, clinically relevant, tangible and effective Chinese medicine. With more than 30 years experience living in China and working with the old doctors born and educated before 1949, JulieAnn and Andrew have both experience and practicality that shines through in their approachable and entertaining teaching style.
The Nugent-Heads teach internationally, manage this online educational site, run a not for profit teaching clinic in Asheville, North Carolina, and have begun to develop their property into a medicinal herb farm. Completely immersed in Chinese medicine in each facet of their life, they are a dynamic duo with a mission to demystify and raise the bar of Chinese medicine.
Course Curriculum
Italy Holiday Summit Information
Available in days
days after you enroll